Tirupati Balaji Darshan Booking: A Complete Guide to Online Ticket Bookings, Timings and Cost in 2023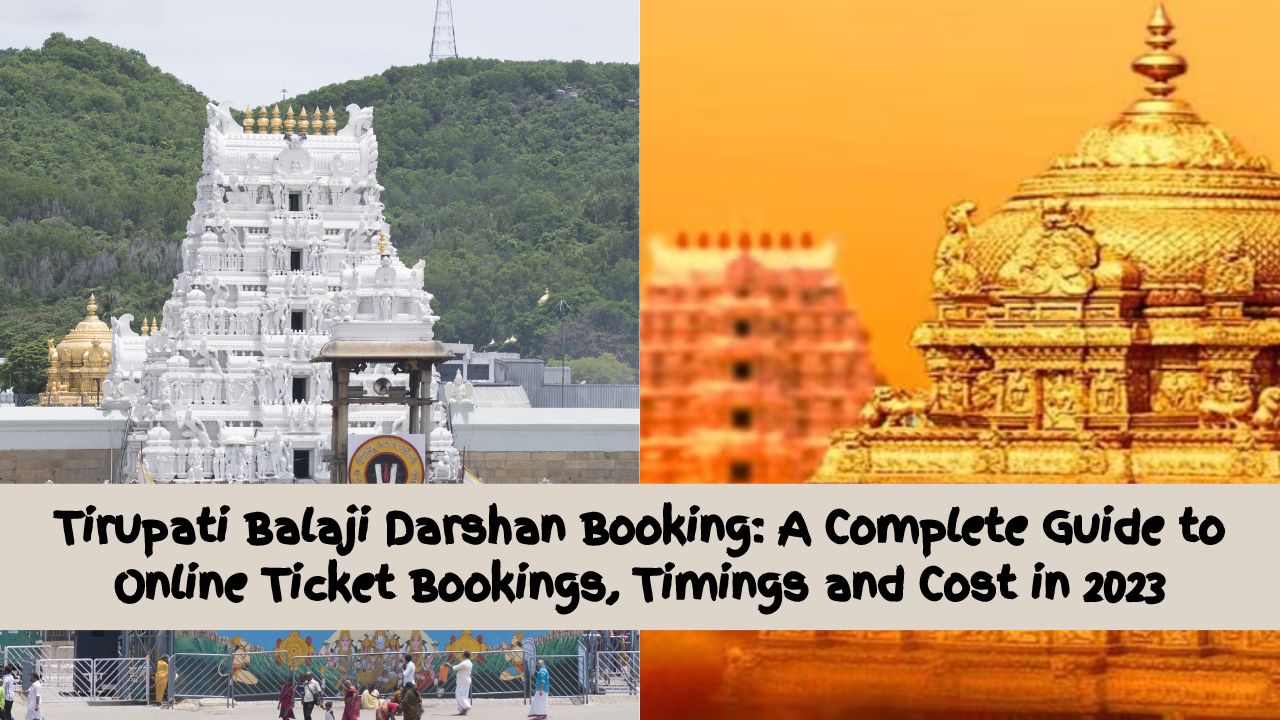 Tirupati balaji is one of the most famous and well as wealthiest temples in India, which receives many visitors everyday and since the number of people visiting this temple is too high who goes up to 1 lakh, doing Tirupati darshan tickets booking can be a bit of hassle. 
But you would face no issues if everything is done right, which is why we are here with this blog presenting the right process of booking online tickets for visiting tirupati balaji for darshan or prayers. 
Various types of darshan in tirupati balaji for the devotees – 
The temple committee has divided the darshan into several types which are as mentioned here in this blog below. 
Sarva Darshan without ticket – It is a free darshan where you need to enter the line and you can do darshan without booking any tickets. 
However, the timings for sarva darshan varies on various days, on normal days 18 hours are allotted to sarva darshan whereas, on peak days the number of hours increases to 20. 
Slot sarva darshan – This means, you can do the darshan of god without waiting in line for which you must get a token in advance from one of the counters there which opens at 5 AM, and if you are going to get the token you must carry your Aadhar card with you as it is compulsory for token darshan. 
Special entry darshan of Tirupati balaji – No offline counters are there for the special entry darshan as all the tickets for special entry are booked by Tirupati online darshan booking and that too in advance before 2 to 3 months. The cost for the tickets will be of Rs. 300 for each visitor where one free laddoo will be given to them as prasad. 
The timings for special darshan are different for infants with parents and different for senior citizens, specially abled people, etc. so you must check these timings from the website of tirupati balaji to get to know the slot in which you can visit.
VIP break darshan – In this darshan the visitors do not need to go through any rush or crowd they can complete the darshan in around 45 to 50 minutes. 
There are three ways for VIP darshan which include protocol VIPs which are MLA, MPs, ministers, Vice president and other dignitaries. 
The next one is non protocol VIP which consists of letters from MLA, MP or any other higher authority. 
And the last way is through the SRIVANI trust donor scheme, where if you donate to SRIVANI trust you will get one darshan ticket which will be valid for one year. 
Online booking of tickets for visiting tirupati balaji through these steps – 
You can make the online booking from the official website of the temple, you can make use of official TTD website which is www.ttdsevaonline.com 
Or you could also get booking for groups using other sites of TTF which are for tourism, etc. and you do not need to worry much about it as the tickets can be booked online from any state or city from all the corners of the country.  
For special darshan, you must get your tickets booked before three months of the visit online at the time slot that is required for booking tickets you will need to create an account of yours on the portal where details such as PAN card, Voter ID card, Aadhar card, etc needs to be submitted, along with the payment method which you wish to use. 
You must keep in mind that you can only book two Tirupati darshan tickets maximum from one account on the TTD portal.
Also, Read: Top 5 Things to Know Before Visiting Tirumala Tirupati Temple