Karnataka Culture: Festivals and Traditions You Shouldn't Miss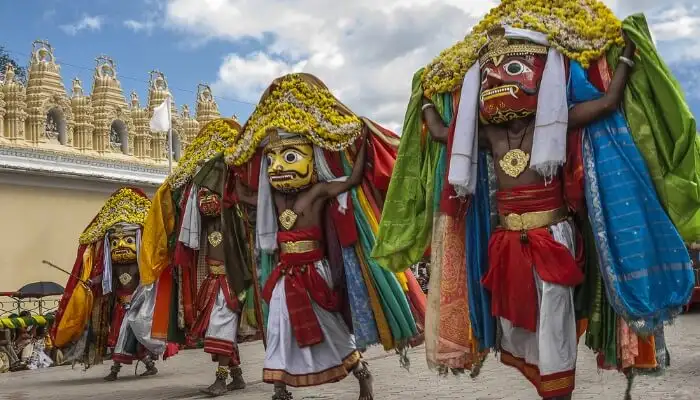 Nestled in the southern part of India, Karnataka is a state renowned for its rich cultural heritage, vibrant festivals, and time-honored traditions. Each celebration in Karnataka is a testament to the state's diverse and inclusive culture. In this article, we'll take a journey through some of the most significant festivals and traditions that offer a glimpse into the soul of Karnataka. Additionally, we'll explore some of the best resorts in Karnataka where travelers can immerse themselves in this cultural tapestry.
Festivals that Define Karnataka's Culture
1. Mysuru Dasara:
Celebrated with grandeur and fervor in the royal city of Mysuru, Dasara is Karnataka's most iconic festival. It commemorates the victory of Goddess Chamundeshwari over the demon Mahishasura. The festival is marked by a procession of caparisoned elephants, cultural performances, and a mesmerizing display of lights at the Mysore Palace.
2. Ugadi:
Ugadi, the Kannada New Year, is a time of joy and new beginnings. It is celebrated with the preparation of traditional dishes, the recitation of Panchanga (almanac), and the exchange of festive greetings. The festival signifies the onset of a fresh year filled with hope and prosperity.
3. Ganesh Chaturthi:
Ganesh Chaturthi is celebrated with great enthusiasm across Karnataka. In the coastal regions, especially in Mangalore, the festival is marked by the installation of intricately crafted idols of Lord Ganesha, processions, and cultural performances. The culmination of the festival involves immersing the idols in water bodies.
Traditions That Bind Karnataka's Communities
1. Yakshagana:
Yakshagana is a traditional folk art form that narrates mythological stories through vibrant costumes, intricate makeup, and lively music. It is a captivating spectacle that continues to enthrall audiences, especially in the coastal regions of Karnataka.
2. Veshti and Ilkal Saree:
The Veshti, a traditional dhoti worn by men, and the Ilkal saree, renowned for its unique pallu designs, are integral components of Karnataka's cultural attire. These garments showcase the state's artistic and weaving heritage.
Exploring Karnataka: Resorts That Offer a Glimpse of Luxury and Culture
1. Evolve Back, Hampi:
Set amidst the ancient ruins of Hampi, this resort offers a luxurious retreat with a touch of history. Guests can immerse themselves in the architectural splendor of the Vijayanagara Empire while enjoying world-class amenities.
2. The Serai, Chikmagalur:
Nestled in the serene landscapes of Chikmagalur, this resort provides a tranquil escape into nature. Guests can experience the rich coffee culture of Karnataka while indulging in luxury and relaxation.
3. Orange County, Coorg:
Surrounded by lush coffee plantations, this resort offers a blend of luxury and Kodava traditions. Guests can partake in cultural experiences such as traditional Coorgi weddings and local cuisine.
Conclusion: Karnataka – Where Culture Meets Luxury
Karnataka's festivals and traditions offer a unique window into the state's rich heritage. By exploring these cultural gems and staying at some of the best resorts, travelers can embark on a journey that seamlessly blends luxury with tradition, creating memories that will last a lifetime.