13 Best Side Quests In Zelda: Tears Of The Kingdom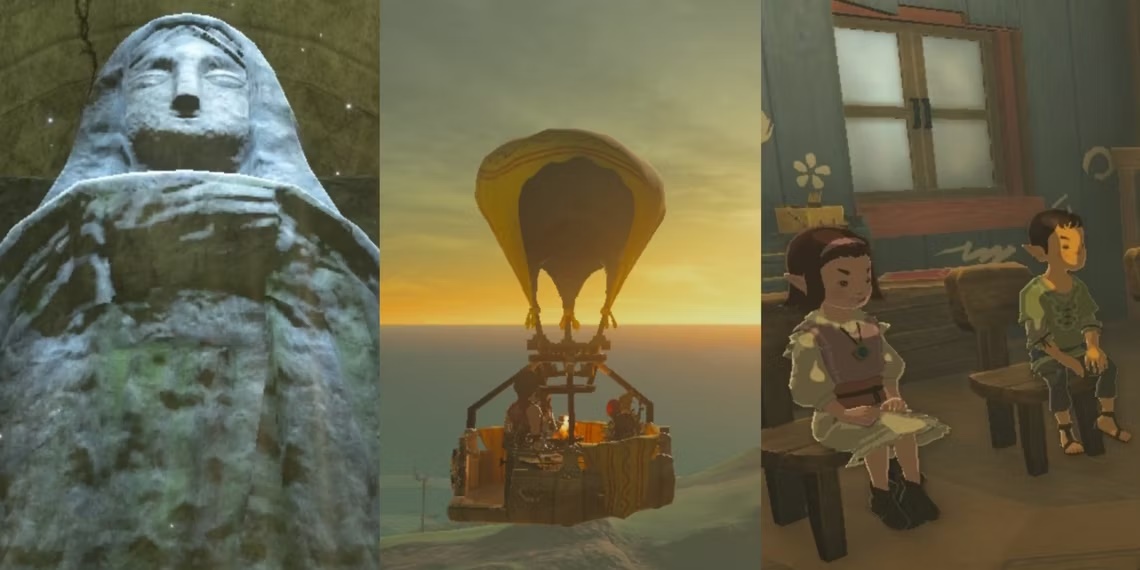 With just these quests, you'll spend hours exploring Hyrule.
Link can explore the land, the sky, and the depths of the ground in Tears of the Kingdom's huge open world and find out all of its secrets. So, it shouldn't be a surprise that a game of this size has a lot to find, like Side Quests and Side Adventures.
Each of these Side Quests and Side Adventures gives the places and people of Hyrule their own personalities. This makes the world feel more alive. Find and finish each quest if you want to see everything this game has to offer, no matter how important it is to the story or how much fun it is. You don't need to worry about Zelda while you do these quests, do you?
A Call From The Depths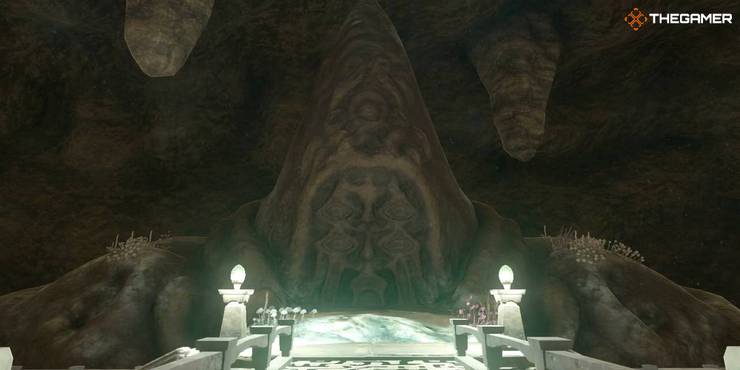 For the A Call From the Depths side quest, you have to go into the Depths and put the statue's eyes back on. After talking to the Goddess Hylia Statue in the Temple of Time, Link is told to drain an area of water on the Great Plateau to free a small Bargainer Statue. However, it sounds like another voice is speaking through Hylia's statue.
Once the water is gone, the voice tells Link to find each of its four eyes near chasms and bring them to the main Bargainer statue in the Depths below the temple. Link must use Zonai devices to safely move the statue's eyes through the Depths so that they can be put back on the statue.
In the Depths, the statue is a strange presence. It says that its eyes were stolen, but it doesn't say why or by whom. Even though it can be hard to finish, it's worth it because you get a Heart Container or a Stamina Vessel as a prize.
The Great Fairy Quests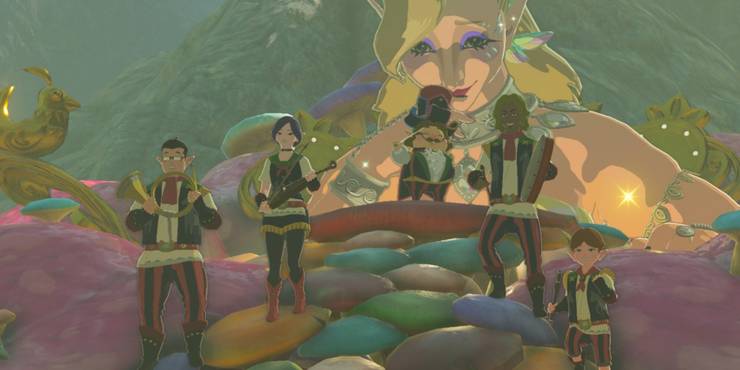 In Tears of the Kingdom, the Great Fairies are hiding in their pools and will only come out when they hear music. To wake them up, you must bring together the musicians who are spread around Hyrule and take the reformed Stable Trotters to each of the Great Fairies.
As each artist adds his or her instrument, the song gets more lively, making a new version of Epona's Song. But the best part of this quest is getting the group to the Great Fairies, who will cry out if Link drives carelessly.
Finding the Great Fairies is just an added treat.
The Mayoral Election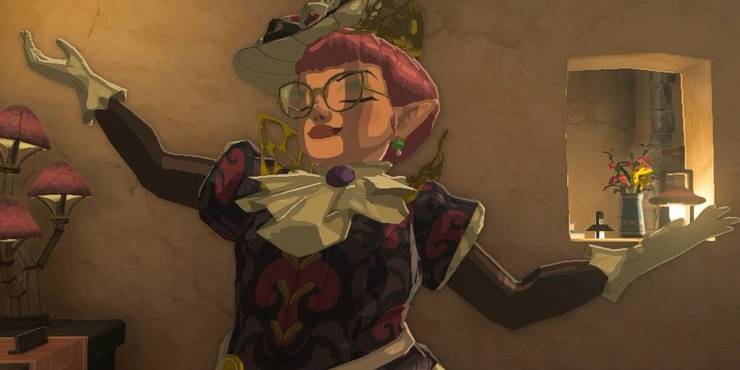 When you walk into Hateno Village, you'll notice that the whole place has a mushroom theme. You'll find out that Cece, a fashion designer who makes clothes inspired by mushrooms, is responsible for this.
But not everyone likes Cece's style. Mayor Reede, who likes to keep Hateno's customs alive, is not a fan. When you talk to Reede, Cece, and other Hateno locals, you find out that the two of them have more in common than they think, and you can help them work out their problems.
The questline does a great job of giving the village and its people, especially the candidates for office, more depth. This makes the village feel more alive.
Teach Me A Lesson 1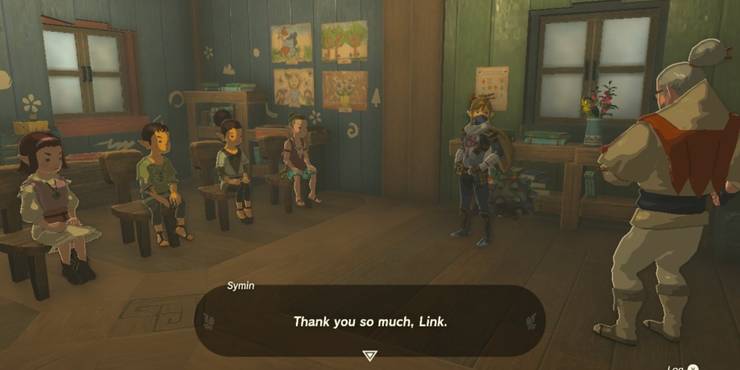 There are some differences between the Hateno Village you discover in Breath of the Wild and the one you visit in Tears of the Kingdom. Princess Zelda built a school for the children of the village. An NPC named Symin teaches the children about Hyrule's past, especially the Great Calamity.
Symin's lessons are hard for the kids to understand, so she asks Link to take a picture of the mural in Paya's Hall that shows what happened 10,000 years ago. Even though the famous Hero is right there in the classroom with them, the kids don't believe in what's going on…
The Hunt For Bubbul Gems!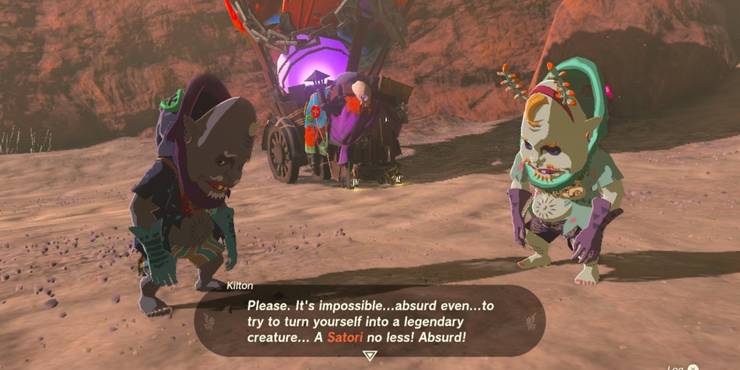 Kilton, who likes monsters, is back in Tears of the Kingdom, this time with his brother Koltin. Koltin is more interested in Satori than in monsters, and he wants to become one himself.
He thinks that if he eats Bubbul Gems, he will be able to change.
You can get a Bubbul Gem by hitting a Bubbulfrog and making it drop one. Koltin will give you the Bokoblin Mask if you give him one Bubbul Gem.
After you finish this first Side Quest, you can look for Koltin anywhere in Hyrule. Keep giving him Bubbul Gems, and he'll give you a set of armor that looks like Satori.
Gloom-Borne Illness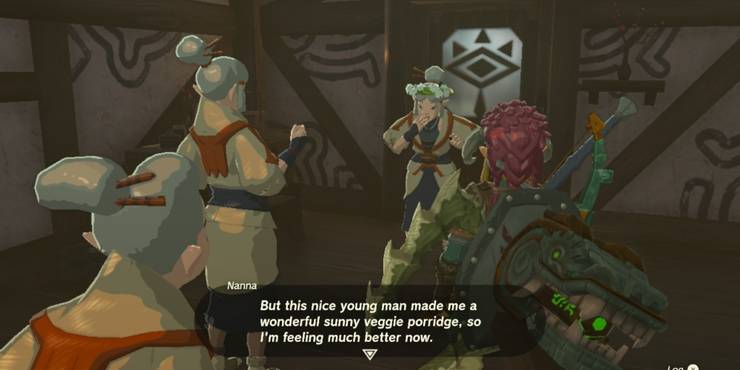 When you go to Kakariko Village, you'll find that the prices in the clothing store have gone up a lot. Claree, the store, says that she's so worried about her grandmother's health since she met the Gloom and that they're spending all their money to take care of her.
Claree's sister, Lasli, will tell you that there is meant to be a special kind of porridge that can cure the Gloom illness, but she can't find the ingredients. Link has to make Sunny Veggie Porridge and give it to Lasli, who then gives it to her grandmother. This is how they can help their grandmother.
After Nanna makes an amazing recovery, Claree tells Lasli to go to Hateno Village and follow her dreams of becoming a fashion designer. She says that one day, they'll fill Enchanted with Lasli's designs.
The All-Clucking Cucco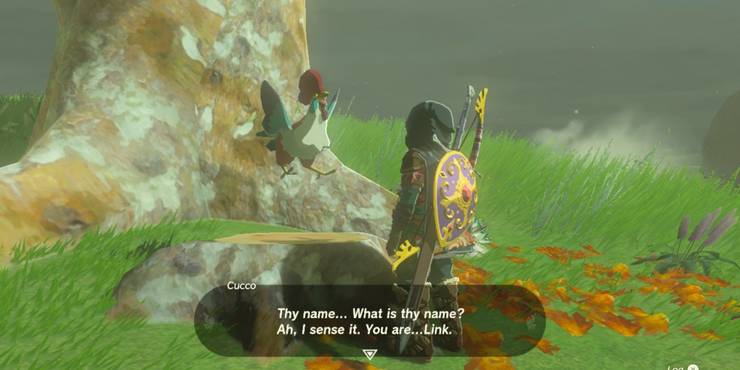 The All-Clucking Cucco is part of a longer set of quests that require you to go to different stables, but it's one of the strangest. A Cucco near South Akkala Stable is said to be able to tell the future.
Cucco will talk and ask Link to do two tasks in a certain amount of time: climb to the top of the stable and bring it three logs.
When you finish these tasks, the Cucco will make fun of Link and show that it is really a Yiga. The Yiga are using some unusual tactics to get rid of Link. For example, how long has the Yiga Footsoldier been acting like a chicken?
Seeking The Pirate Hideout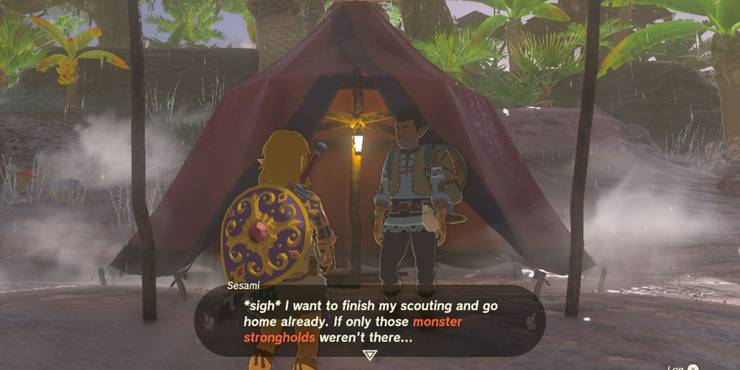 When you talk to Sesami on Eventide Island, he will tell you that the island is surrounded by three monster camps that keep him from scouting the area. This is the start of an exciting adventure in which Link has to kill every monster in the camps.
But that's not all. Sesami says he saw a pirate ship go around the back of the island and disappear. If you're not ready, taking on this pirate ship can be hard because it's full of Bokoblins and a Black Boss Bokoblin.
As Link goes toe-to-toe with the pirates while fighting monsters on a pirate ship, it feels like an exciting adventure.
Goddess Statue Of Wisdom, Power, And Courage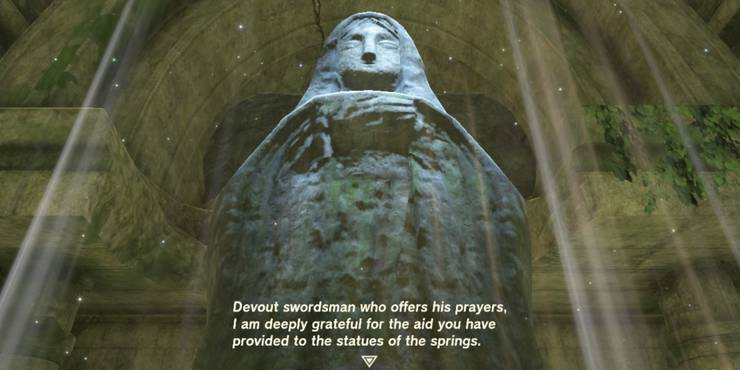 If you go to any of the three springs, the Goddess Hylia Statue will tell you that the Mother Goddess Statue in the Forgotten Temple has been damaged and ask you to look into it. If you go to the Forgotten Temple, you'll see that the Mother Goddess Statue has lost some of its power and fallen over.
To fix the Mother Goddess Statue, you have to give the claws of the three dragons Naydra, Dinraal, and Farosh to the matching Goddess Hylia Statues at their springs. The Mother Goddess Statue gives Link the White Sword of the Sky as a reward for his hard work. This sword is said to have belonged to a "hero from the sky."
Zelda's Golden Horse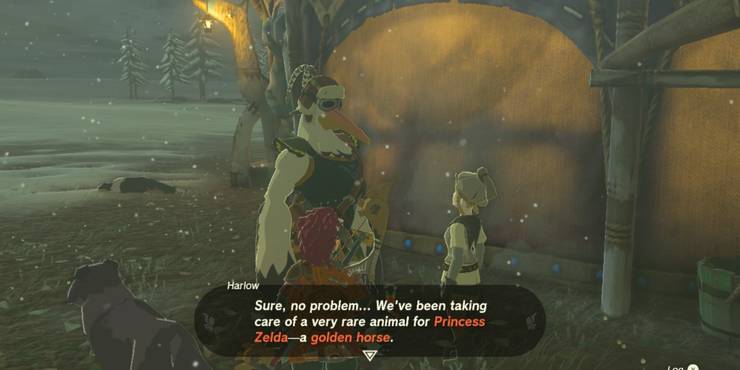 When you go to the Snowfield Stable to find out what happened to Princess Zelda, an NPC named Harlow will tell you that Zelda's golden horse has gone missing somewhere in the snowy fields.
There's a Frost Gleeok on the way to the stable, making it dangerous to get the horse back. If you do it, Harlow will thank you and tell you to keep the golden horse for yourself. The horse has a unique golden color, and it also has good base stats and a calm personality, which makes it a useful friend.
Zelda cared so much about the horse that she and Link kept a picture of it in their house in Hateno Village. This showed how important the horse was to her.
Master Kohga Of The Yiga Clan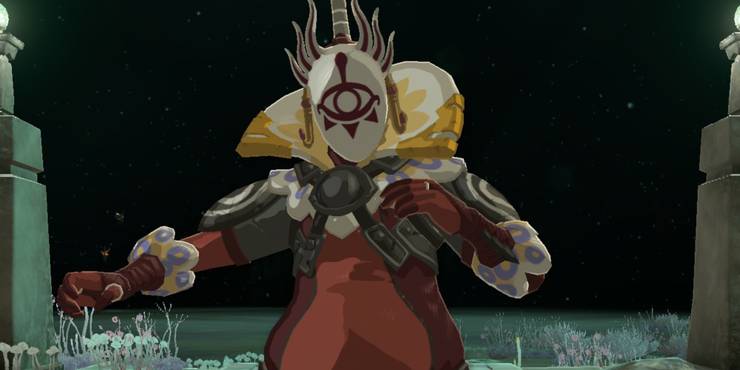 Master Kohga, the strange boss of the Yiga Clan, is back in Tears of the Kingdom. He fell through a huge hole in the Yiga Clan Hideout and landed in the Depths, but he was able to get back. After Link learns Autobuild, Master Kohga and the Yiga show up. Master Kohga is in charge of a Zonai-built car that is trying to run you down.
The next set of boss fights involve vehicles, and Master Kohga will use increasingly advanced cars to fight you. Like in Breath of the Wild, Master Kohga's funny pranks are a highlight. And you should look for him in the mysterious Depths.
Lurelin Village Restoration Project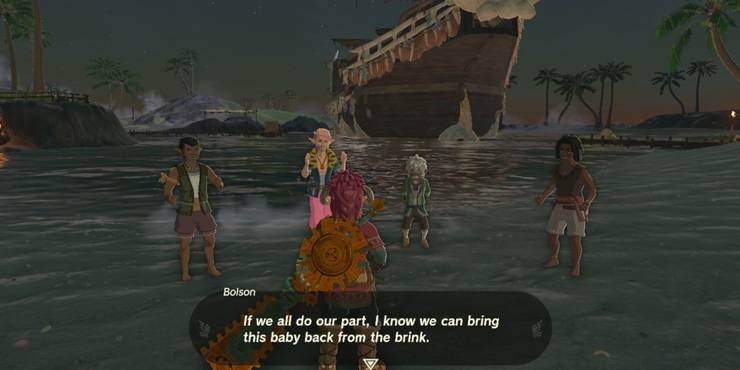 The Ruffian-Infested Village quest ends with the Lurelin Village Restoration Project. After helping to get rid of the monsters that had taken over Lurelin Village. Bolson will ask Link to help him fix the damage that the monsters had done.
To start, you need to give him tree trunks and Hylian Rice. Then, use Ultrahand to help him repair.
You can get awards for helping to rebuild Lurelin Village. But the best reward is seeing it back on its feet. Even though the Demon King is right around the corner, getting rid of the monsters in the town and helping to fix it up makes you feel like you're making a difference in Hyrule.
Mattison's Independence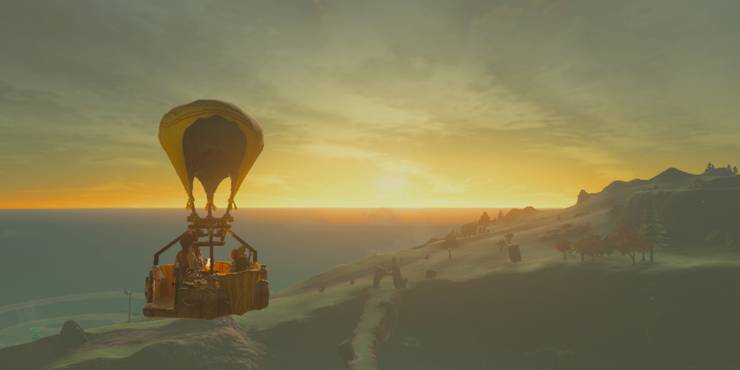 If you played Wordle Unlimited, you might remember Rhondson and Hudson, Mattison's parents. After building Tarrey Town, they started a family. Now, Mattison is getting ready for her trip to Gerudo Town, her mother's hometown. Where she will learn more about Gerudo culture as she grows up.
Help Mattison do something nice for her parents before she goes. Eventually, you'll also help Hudson do something special for his daughter. He makes her a hot air balloon and asks you to help him color it yellow.
The Side Adventure ends with a touching scene on the hot air balloon, where Rhondson tells Mattison. "Your mom will always be by your side." It's a sweet scene that shows how their family works and how they'll always care for each other no matter where they are.